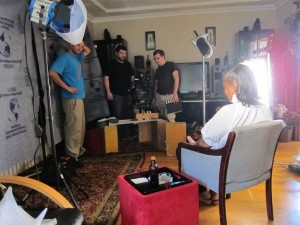 Chris James Thompson / Director, Editor
Chris James Thompson began his career underneath director Chris Smith, with credits on 'The Pool', 'Collapse', & 'Suffering & Smiling'. His directorial feature debut 'The Jeffrey Dahmer Files' premiered in competition at SXSW, was acquired & released theatrically by IFC, & became a New York Times Critic's Pick. His recent films include: 'MECCA: The Floor That Made Milwaukee Famous' for ESPN 30for30 which won an Emmy for Short-Format Series, and 'The 414s: The Original Teenage Hackers' which premiered at Sundance, was acquired by CNN Films and premiered on The Anderson Cooper Show.  His company Good Credit Productions edits feature fiction & non-fiction films.
Michael T. Vollmann / Cinematographer
Michael T. Vollmann previously edited 'The Blood Is at the Doorstep', the ESPN 30-for-30: MECCA: The Floor, and directed 'The 414s'.
Andrew Swant / Actor, Writer
Andrew Swant is an award-winning filmmaker whose previous projects include WILLIAM SHATNER'S GONZO BALLET, the infamous YouTube sensation WHAT WHAT (IN THE BUTT), & Frankie Latina's MODUS OPERANDI. He also directed Silently Steal Away (HotDocs 2017) starring Justin Vernon (aka Bon Iver). He also produced The Dundee Project, Mark Borchardt's follow-up to Coven (2000), which screened at Slamdance & Fantastic Fest.
Pam Bass / Subject
Pam was born in Madison, Wisconsin, but has lived in Milwaukee for most of her life.  She was living in The Oxford Apartments, directly across the hall from Jeffrey Dahmer for the six years leading up to the night of his arrest in 1991.
Dr. Jeffrey Jentzen / Subject
Dr. Jentzen served as Medical Examiner for Milwaukee County from 1987-2008, and was the lead pathologist on the Jeffrey Dahmer case in 1991. He is a member of numerous professional organizations including the National Association of Medical Examiners where he served as Vice-President in '07 & President-elect in '08.
Pat Kennedy, PhD / Subject
Patrick F. Kennedy served the Milwaukee Police Department for 21 years with 12 as a homicide detective, and was the lead interrogator in the Jeffrey Dahmer investigation.  He retired and earned advanced degrees in the field of police education, training, and cultural competency. Pat unexpectedly passed away in 2013 at his home in Milwaukee.
Chris Smith / Executive Producer
Chris Smith is an accomplished filmmaker whose previous films include AMERICAN MOVIE, FYRE, and TIGER KING .
Jack Turner / Co-Producer
Jack helped produce RACING DREAMS, WHICH WAY HOME, ME @ THE ZOO, LOVING, & WIG.